Plugin Boutique has launched a limited time sale on three Antares EVO vocal manipulation effect plugins.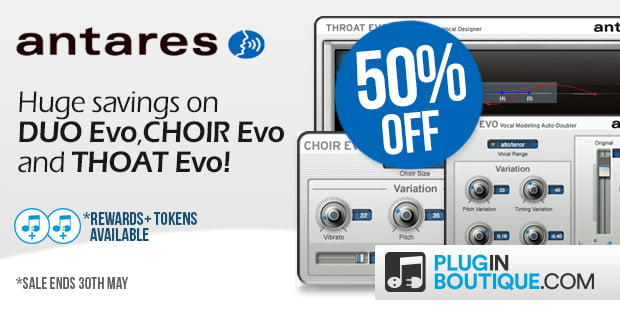 Save on the incredible vocal production tools from Antares EVO range for a limited time only at Plugin Boutique.
Evo Sale
CHOIR Evo is a unique processor that turns a single monophonic voice into 4, 8, 16, or 32 distinct individual unison voices, each with its own pitch, timing and vibrato variations. When multiple instances of CHOIR Evo are assigned to individual harmony parts, the result is an amazingly realistic large vocal ensemble.
DUO Evo is simply the quickest, easiest way to enhance vocals with a realistic doubled vocal part. Simply instantiate DUO Evo on your lead vocal, adjust the Variation parameters to create exactly the doubled voice you're looking for, and hit play. Instant doubling.
THROAT Evo is a revolutionary vocal tool that lets you process a vocal through a meticulously crafted physical model of the human vocal tract, letting you literally design a new new vocal sound.
The sale ends May 30th, 2017.
More information: Plugin Boutique / Antares