FXpansion has launched a sale on the BFD3 virtual drum instrument, as well as three BFD expansion packs.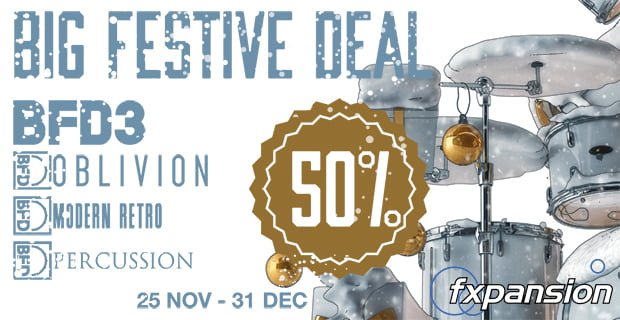 BFD3 is the third generation of FXpansion's flagship software acoustic drum studio: new levels of realism and ground-breaking features in an intuitive redesigned engine.

With stunning new kits with mix-ready presets and modelling technology for tom resonance and cymbal swells, BFD3's audio engine delivers uncompromising detail. The revamped interface has a new mixer and sound browser for the easiest BFD experience yet.
Three expansion packs are also on sale:
BFD Modern Retro, pair of kits that helped define the sound of the 90s & early 2000s.
BFD Oblivion, designed to provide ready-to-use heavy rock & metal drum sounds.
BFD Percussion, an extensive suite of detailed percussion instruments.
BFD3 and the expansions are available at 50% off from Plugin Boutique, until December 31st, 2016.
More information: Plugin Boutique / FXpansion