Plugin Boutique has launched a sale on the Music Production Suite, offering a 50% discount on iZotope's plugin bundle for a limited time only.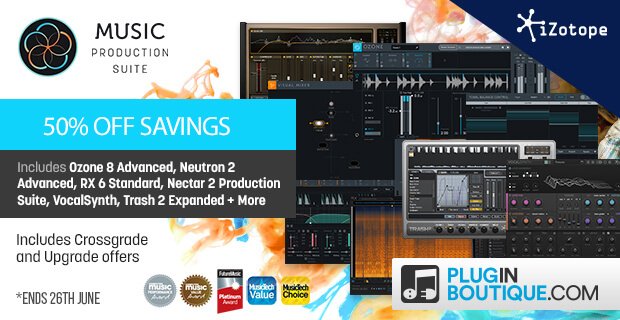 Music Production Suite combines six of the most powerful music production tools in iZotope's portfolio—Ozone 8 Advanced, Neutron 2 Advanced, RX 6 Standard, Nectar 2 Production Suite, VocalSynth, and Trash 2 Expanded—into a go-to collection of the industry's best mixing, mastering, vocal production, and audio repair tools.
The bundle includes:
Ozone 8 Advanced (with Tonal Balance Control)
Neutron 2 Advanced (with Tonal Balance Control)
RX 6 Standard
Nectar 2 Production Suite
VocalSynth 2
Trash 2 Expanded
Over $1900 in music production tools
Includes 34 individual plug-ins
The sale includes upgrades and crossgrades and is available until June 27th, 2018.
More information: iZotope Music Production Suite