Plugin Boutique is offering a 50% discount on four selected Meldaproduction plugins as part of the Eternal Madness Sale.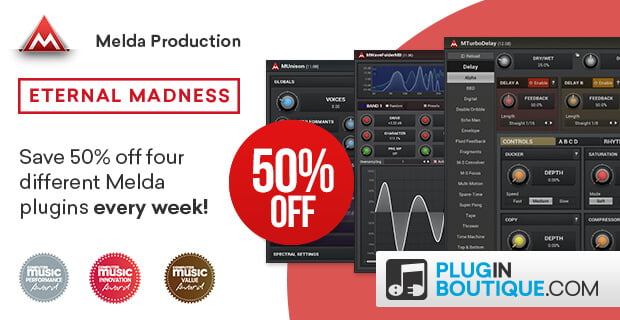 This week you can get the following plugins at half off:
MDrummer Large, a drum machine and virtual drummer that makes arranging drum tracks and real-time performances quick and simple with endless possibilities.
MWobbler, a unique distorting filter originally designed to produce dubstep wobbling basses. It is a great multipurpose filter for just about any audio material from rhythmic pads, rotary organs to drum driven basses.
MLimiterX, a plugin that comes with 4 simple knobs that give you all the power to make your recordings loud without the ugly artifacts most limiters cause.
MAutopanMB, a powerful multiband auto-panner with an adjustable shape feature. This effect is naturally designed to bring spatiality to the sound.
The sale expires January 14th, 2019.
More information: Meldaproduction