Plugin Boutique has launched an exclusive sale on MRhythmizer, the audio effect plugin by Meldaproduction that aims to bring your music to life.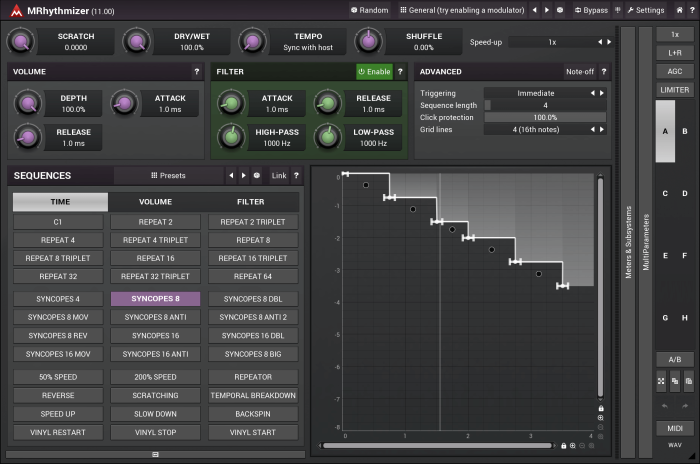 MRhythmizer is a unique time manipulation effect that uses an integrated sequencer to control time, volume and filters.

From gating to glitching, repeating to scratching, all with stunning audio quality. MRhythmizer brings your music to life, so say goodbye to boring audio performances!
MRhythmizer features
36 available sequences for time, 36 available sequences for volume and 36 available sequences for filter – each sequence can be up to 64 quarter notes long and automatically synchronize with the song, time sequences can look up to 8 quarter notes into the past.
Controllable via MIDI, modulation and automation.
Scratching slider to add some scratches.
4 global modulators that can modulate any set of parameters including other modulators. In this way you can make the sound move in time, be less static and more interesting. Each modulator works as LFO, follower, midi/audio triggered ADSR envelopes, a pitch detector or even a combination.
Up to 8 channels surround processing.
Sinc interpolation and high-quality upsampling.
Extremely advanced and easy-to-use user interface.
Automatic synchronization to host tempo.
MIDI controllers with MIDI learn.
Very fast, optimized for SSE and SSE2 processors.
Global preset management and online preset exchange.
MRhythmizer for Windows and Mac (VST/VST3/AU/AAX) is on sale for only 23.95 EUR / $30 USD exclusively at Plugin Boutique. The offer expires October 15th, 2018.
More information: Meldaproduction