Plugin Boutique is offering a 50% discount on Digital Brain Instruments software for a limited time only.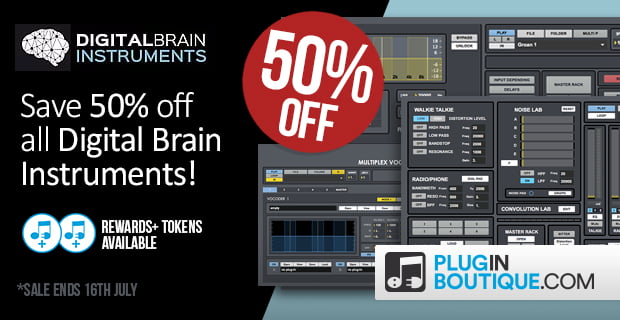 Save 50% off the next generation interactive audio tools for sound designers, musicians, audio engineers and game developers by Digital Brain Instruments here at Plugin Boutique.
Digital Brain Instruments sale
Multiplex Vocoder 2 is a standalone software developed for music production, live sets and audio post-production. The software features four VST/AU vocoders and one audio sample vocoder where you can load any Virtual Instrument or audio file to be used as a vocoder carrier signal.
Talkie Box 2 is a standalone software developed for audio post-production purposes. It allows processing in real-time your voice to emulate walkie-talkie, radio or telephone sound effects. Design your own background noise and voice effects with this user-friendly tool for sound designers and game audio.
Voxpat 2 is a standalone software developed to create high quality monster, other world creatures and robotic voices for games, films, music, multimedia projects or for creating sound libraries in just a few minutes. But also for processing any kind of samples or instruments in many different ways.
Voxpat Player is a standalone software developed as a quick start for those interested on monster, creature and robotic sound design, but also for low-budget projects, students and musicians.
The sale ends July 17th, 2017.
More information: Plugin Boutique / Digital Brain Instruments