Plugin Boutique has launched an exclusive sale on Never Get Stuck Again, an eBook and audio book by Mastering The Mix's Tom Frampton.
The book offers a complete guide to turning a musical idea into a finished track.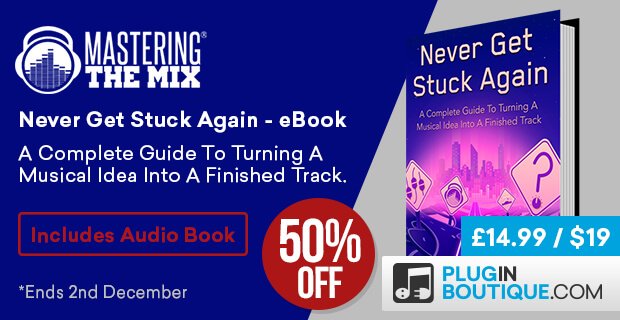 Tom Frampton is an audio engineer with one driving goal; to help music producers get the best possible results.

The past few years have been a whirl-wind for Tom. Mixing and mastering songs for thousands of clients, his plugins being used by tens of thousands and his blog read by hundreds of thousands. Every day presenting a new challenge, and a new opportunity to learn.

Hearing the music related struggles expressed by his clients and readers has positioned Tom perfectly to uncover unique techniques and workflows to help them create better-sounding mixes.

Tom wrote this eBook to compile and share all of his most valuable information into a single resource. Having been involved at every stage of the production process in various scenarios, he found there are some approaches that work brilliantly, and some that guarantee sub-par results.

Toms approach to music production, as defined in this book, has opened the door for him to release remixes on influential labels (BMG) and work with world-renowned artists (Tiesto, David Guetta, Calvin Harris, Niall Horan).
Never Get Stuck Again is on sale for $19 USD until December 3rd, 2018 (regular $39 USD).
More information: Never Get Stuck Again