Plugin Boutique has welcomed Surreal Machines with a sale on its Dub Machines plugins, offering a 50% discount on Modnetic and Diffuse for a limited time only.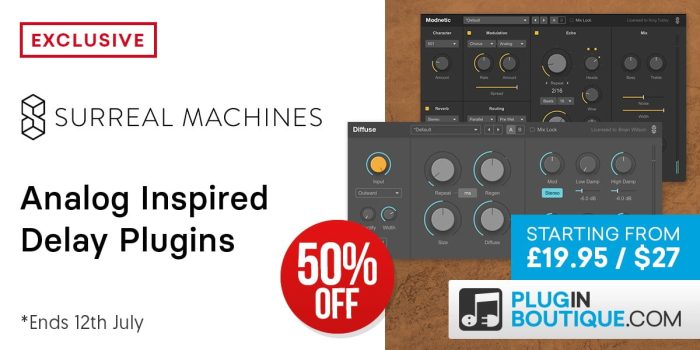 Dub Machines is a bundle of two analog inspired Delay Plugins in VST & AU formats across 32 and 64-bit operation for Windows and Mac OS X hosts.

The designs of the Dub Machines plugins take full advantage of their digital engines, but their sonic power stems from analog gear and the inspiration it provides.

At the heart of our design process, the technical emulation of well known analog fx units is subjected to fine-tuning by ear in order to challenge the model with creative possibilities that transcend its original design.
Diffuse is an analog-modelled delay fused with a classic reverb design used in early digital units. Modnetic offers comprehensive emulation of classic analog tape delay hardware from the 70s.
Both the plugins, as well as the Dub Machines bundle are 50% off exclusively at Plugin Boutique until July 14th, 2018.
More information: Surreal Machines