Plugin Boutique has launched a sale on the Helper Series Bundle, offering any user of individual Helper modules 50% off on the bundle featuring Helper Equalizer, Saturator and Transients.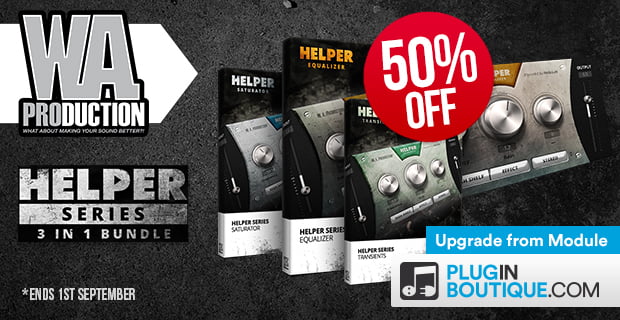 If you're a big fan of our killer plug-in – Pumper, then you shouldn't miss out on these series of insane plug-ins. Helper plug-ins are designed to be a superb mixing tools which are vital to bring your music mixing game to the next level. It doesn't matter that you use it on individual channels or groups or the master channel, it guarantees to bring good results to your music.

Give your music an opportunity to stand out from the rest with these simple-to-use yet versatile plug-ins as we have carefully designed them to ensure that they are worth it and bring magical results to your song.
The bundle upgrade is available for just £10 GBP until September 1st, 2017.
If you don't own any Helper plugins yet, you can get Helper Saturator at 60% off until August 21st, and upgrade to the Bundle before September.
More information: Plugin Boutique / W.A. Production