For one week only you can get a 50% discount on four selected Meldaproduction plugins in the Eternal Madness sale at Plugin Boutique.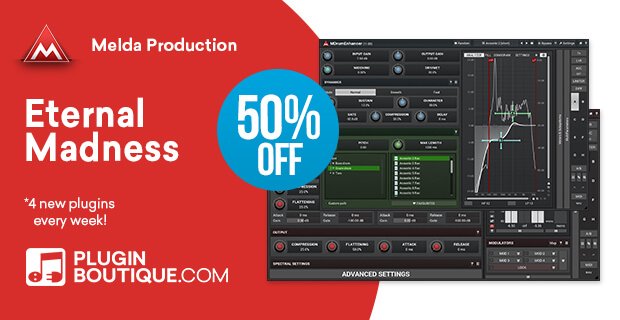 MCompare is the ultimate reference tool for mixing and mastering allowing you to quickly compare your audio to any audio file and stages of your processing chain, and saves you from loudness deception.
MEqualizerLP mastering 8-band equalizer plugin is a surgical tool necessary for every mastering engineer. It has a crystal clear sound with minimal distortion (measured below -160dB). It doesn't smear transients or create mud, nor does it alter the imaging and depth information of the original sound.
Modern listeners crave extremely tight and punchy sound. MStereoSpread uses psychoacoustics to bring your tracks closer to the listener and make them as wide and tight as physically possible, yet sound natural and beautiful.
MWaveShaperMB is a powerful multiband wave-shaping plugin that literally lets you draw your own signal graph. This makes it the perfect solution for creating various kinds of distortion and even complicated modulated effects that you haven't even dreamed of…yet.
The plugins are available starting from $24.50 USD until April 1st, 2019.
More information: Meldaproduction