Meldaproduction is offering a 50% discount on selected audio plugins as part of its Eternal Madness Sale.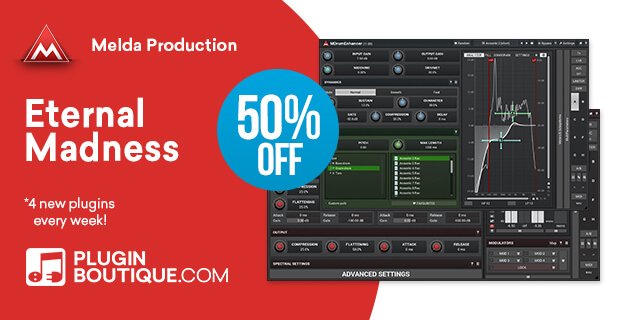 MDynamicsMB advanced multiband dynamics processing module plugin is an advanced multiband dynamics processor with clear sound, designed originally for mastering. However due to its high performance and zero latency it is also suitable for any mixing purpose.
MFreqShifterMB is a revolutionary frequency shifting plugin which breaks down the harmonic content of the audio. Use it to fatten the sound, produce mild stereo expansion, or even provide complete sound destruction. Whether you simply need an enhancement tool, or are searching for a truly original sound, this is the plugin for you!
MReverb is a special reverb designed for mixing, particularly spatial positioning. This was a very hard and time-consuming task to do… Until now. MReverb has 4 fully configurable modulators which can be used to make incredible effects.
MUnison is a unique combination of doubler/unison and smart harmonizer. It lets your vocals sound like an orchestra with automatically scaled harmonies, produces classic double-tracking effect and much more…
Prices are starting from $21.50 USD. The offer is available at Plugin Boutique until September 28th, 2020.
More information: Meldaproduction