Plugin Boutique is offering a 50% discount on selected Meldaproduction audio plugins as part of its Eternal Madness Sale.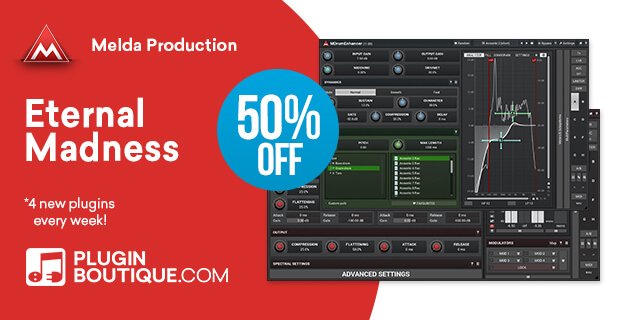 MFreeformEqualizer is a FFT based linear-phase equalizer which can provide virtually any frequency response and may save you when other methods have failed. Using MFreeformEqualizer you can literally draw any frequency response you may want. You can correct problematic frequencies with surgical accuracy, play with the spectrum, or even create interesting effects.
MModernCompressor is a powerful compressor plugin based on our MDynamics engine. It is designed simply for ease of use and optimized to get pristine quality results as quickly as possible without having to master the more advanced features in MDynamics. It also contains a powerful metering system providing everything from gain reduction to a level distribution analyzer.
Modern listeners crave extremely tight and punchy sound. MStereoSpread uses psychoacoustics to bring your tracks closer to the listener and make them as wide and tight as physically possible, yet sound natural and beautiful.
MPhatik is a unique dynamic multi-effect featuring an amp, convolution and a compressor, which lets you warm up your audio and then restore the original dynamics. And that's just the beginning without being creative yet…
MAutoAlign solves problems with phase cancellations when recording a single instrument using multiple microphones. Normally engineers have to search for ideal delays and potentially invert phases manually. But now all you need to do is to place MAutoAlign to all tracks you want to fix, start playback and press Analyze button in one of them. The plugin will analyze all tracks and after a few seconds you are finished!
The sale expires July 6th, 2020.
More information: Meldaproduction