Plugin Boutique has launched a sale on selected Meldaproduction effect plugins, offering 50% off in a new round of the all year Eternal Madness sale.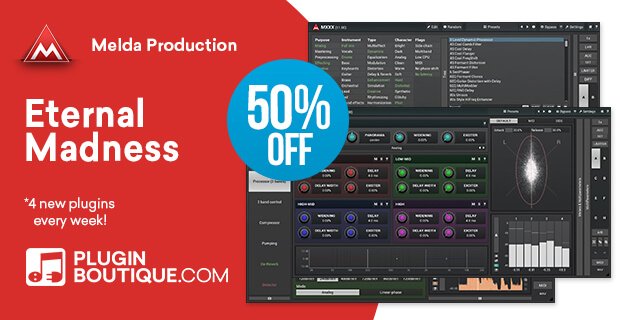 From gating to glitching, repeating to scratching, all with stunning audio quality and up to 6 distinct bands, that's MRhythmizerMB. A unique time manipulation effect that uses an integrated sequencer to control time, volume and filters. MRhythmizerMB brings your music to life, say goodbye to boring audio performances!
MMorph lets you morph between 2 audio materials, leading to inexhaustible creative potential. It sounds unbelievable, is extremely versatile and insanely fast. MMorph is an indispensable tool for composers, producers and DJs, who really want to be creative.
When your drums sound boring and sterile, there's now a cure. Bring some attack and punch to any rhythmic track with MTransient.
MDrumEnhancer is a unique tool that follows your drum track and synthesizes it's own signal using samples to make it sound big and phat, without any problems drum replacing suffers from. Add snare noises, improve bass drum's boom or snap, or even resynthesize the sound completely.
The offer expires March 18th, 2019.
More information: Meldaproduction