Plugin Boutique is offering a 50% discount on selected Meldaproduction effect plugins as part of the Eternal Madness Sale.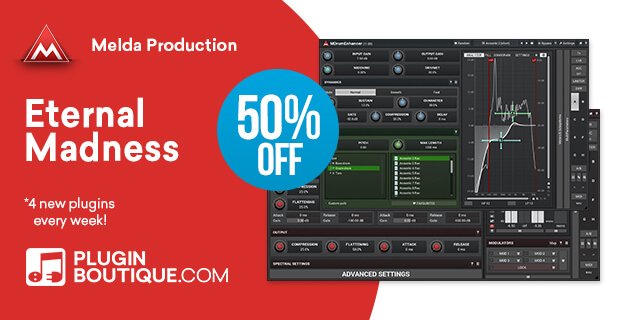 MChorusMB is a unbelievably sounding powerful multiband chorus which allows you to fully adjust its shape. Where other choruses end, this plugin just starts off. It processes anything from guitar tracks to complete mixes, all with outstanding audio quality and an inspiring set of features.
MDrumLeveler is a unique tool specially designed for drums and percussive materials. It will improve the drum performances, stabilize drum hit levels, remove leakage and ambience and let you control the drum hits better than you ever could with traditional tools.
MMultiAnalyzer is a unique multitrack analyzer and sonogram, which looks inside your audio material and reveals problems and frequency collisions quickly, easily, and with astonishing accuracy. Just put an instance on each track you are interested in and the plugins automatically find each other.
MTremoloMB is a powerful multiband tremolo with an adjustable shape. This effect, naturally, is designed to modulate the sound levels. However, when coupled with our incredible adjustable oscillator technology, this plugin becomes much more than just any normal tremolo effect.
The offer expires February 17th, 2020.
More information: Meldaproduction