Plugin Boutique has launched the exclusive Nugen Audio Electronic Bundle, a limited time offer on two popular Nugen Audio plugins.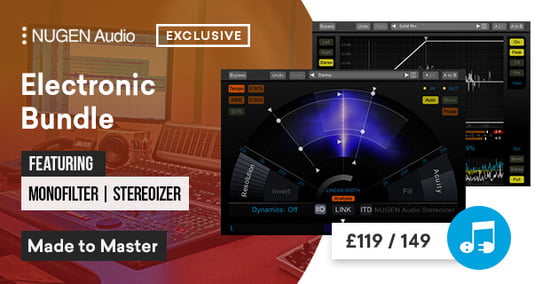 For a limited time only, get two of Nugen Audio's ground-breaking and intuitive plugins, MonoFilter and Stereoizer, in one unique package.

Used by professional engineers and producers the world over, these plugins can enhance your stereo field and bring transparent solidity to your bass, helping you to achieve a professional mix every time.

Get these two Pro Audio mixing and mastering tools together and save 50% off exclusively at Plugin Boutique.
Monofilter grabs hold of your bass and roots it solidly within your mix. With its intuitive controls you can quickly anchor the power, while retaining the essential character and perceived spatial characteristics of the original sound.
Stereoizer offers you the full range of stereo image enhancement, from gentle width adjustments to huge dynamic ambiences that transform the soundstage. With visual audio analysis feedback and a clear, logical control layout, Stereoizer is satisfying to use and gives great results with the minimum of effort.
The bundle is on sale for £99 GBP / $119 USD until May 13th, 2019.
More information: Nugen Audio