Plugin Boutique has launched a new round of deals on Meldaproduction plugins, offering a 50% discount for one week only.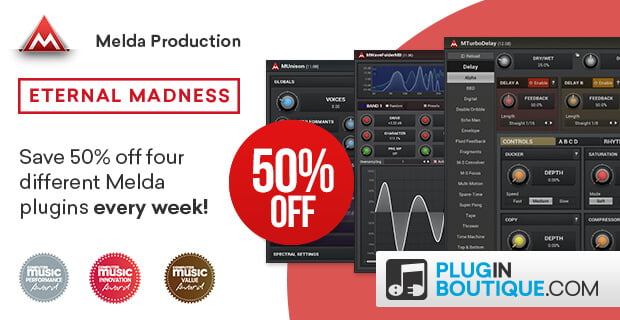 This week you can save on the following products:
MModernCompressor is a powerful compressor plugin based on the MDynamics engine. It is designed simply for ease of use and optimized to get pristine quality results as quickly as possible without having to master the more advanced features in MDynamics. It also contains a powerful metering system providing everything from gain reduction to a level distribution analyzer.
MPhatik is a unique dynamic multi-effect featuring an amp, convolution and a compressor, which lets you warm up your audio and then restore the original dynamics. And that's just the beginning without being creative yet…
MUltraMaximizer is a fatal weapon that lets you win the loudness war and is affordable to everyone! Using a few controls MUltraMaximizer can basically do the limiting for you with outstanding quality. It is a simplified, extremely easy-to-use and cheap alternative to MMultiBandLimiter, one of the most advanced multiband limiters in the world.
MWaveFolderMB is a powerful distortion module, inspired by analog, taken to a whole new level using digital processing. It has a unique character ranging from mild harmonic enhancement to a complete sound destruction.
The offer expires February 18th, 2019.
More information: Meldaproduction