Meldaproduction has launched a sale on selected Meldaproduction audio effect plugins, offering a 50% discount as part of its Eternal Madness sale.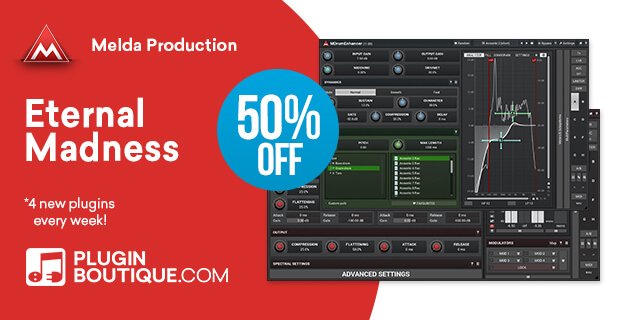 MCharacter is a unique tool, that lets you directly control the harmonics of any monophonic audio material. It can be used on vocals, bass, trumpet, saxophone… It opens a range of mixing and creative possibilities.
MFilter is a specifically altered version of our MEqualizer with four global modulators which are able to provide effects such as wah-wah, sweeps, etc., but MFilter goes much further than you could ever imagine with standard effects.
MReverbMB extends the possibilities well beyond that of standard quality reverbs by allowing you to process up to six distinct bands simultaneously. This reverb plugin can provide everything from extremely realistic halls to unbelievable effects.
MSpectralDynamics spectral mastering dynamics processor plugin is a true mastering revolution. It can do many things, but it's main feature serves as an ultramodern hi-tech replacement for multiband compressors and loudness maximizers.
The offer is valid until August 3rd, 2020.
More information: Meldaproduction