Plugin Boutique has launched a sale on the Film Score Companion instrument bundle by Sonivox, offering 56% off on the suite comprising Orchestral Companion Brass, Strings & Woodwinds, Eighty Eight Ensemble, Big Bang Cinematic Percussion.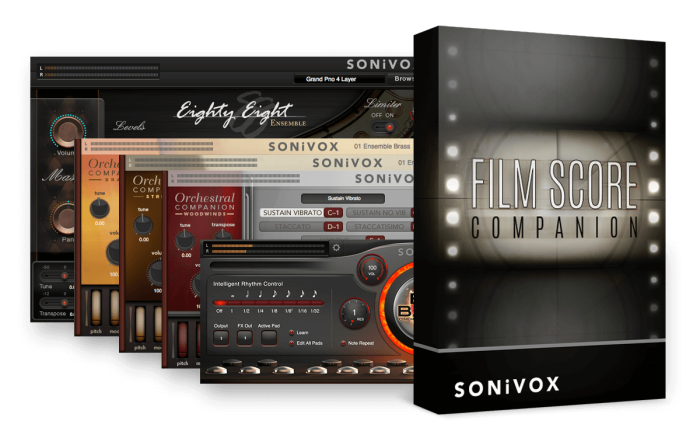 Music can make or break any film or game. Dialog, scenery and great effects are simply not enough to convey the full feeling and emotion of what the filmmaker or gamemaker is trying to express. It takes more than a clever or humorous script. It takes more than great special effects and CGI. And it even takes more than a perfectly-delivered sarcastic Nicholson quip or raised eyebrow.

It takes music. Thoughtful, correctly-timed, appropriately-themed music. From sci-fi thriller and heart-wrenching drama movies to grand-scale end-of-the-universe games and everything in between, music is an indispensible pillar upon which a production's success is built.

What would Jaws have been without the menacing drun-da, drun-da, drun-da in the background, announcing the imminent arrival of one of filmdom's most infamous villains? Does anyone not know that music?

Whether you're the next Hans Zimmer, John Williams, Quincy Jones, or just looking to add some great sounds to your video from last summer's trip to Aruba, you need a complete film score sound production package. You need the best. You need Film Score Companion.
The bundle is on sale for £53 GBP/$69.99 USD until July 1st, 2018.
More information: Sonivox