Plugin Boutique is offering a 60% discount on some of the awesome and creative plugins from Glitchamchines for a limited time only.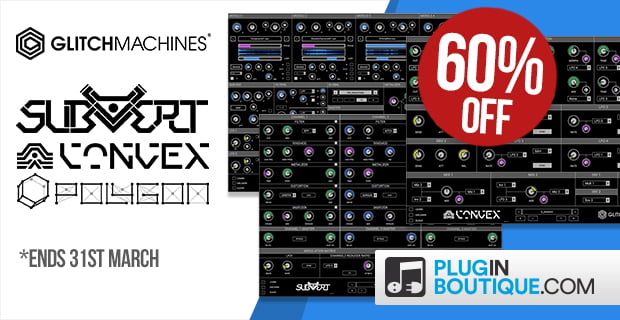 Glitchmachines specializes in creative audio software and forward-thinking sound design for music production, games and multimedia, bringing you the best in forward-thinking sound design and unconventional audio software tools.
The following plugins are included in the sale:
Convex is a multi-effects processor designed to facilitate the creation of contorted artifacts, syncopated patterns and skewed digital textures.
Polygon is a sampler geared toward electronic music production and experimental sound design.
Subvert is a savage 3-channel distortion processor designed to decimate the frequency spectrum.
The plugins are available for Windows and Mac (VST/AU). The sale ends April 2nd, 2018.
More information: Glitchmachines