VST Buzz has launched a sale on Tantra, offering a 60% discount on the rhythmic multi-fx effect plugin by Dmitry Sches.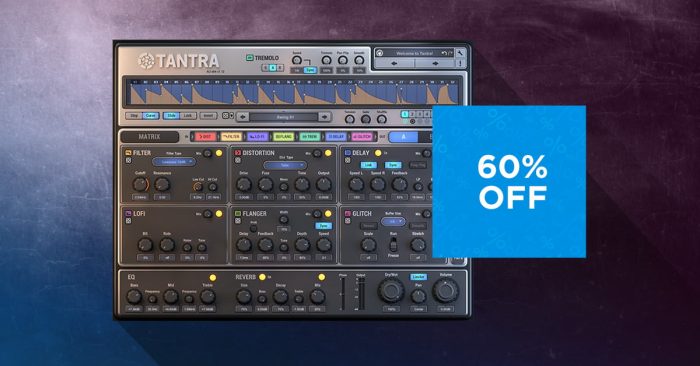 The main idea behind Tantra is as simple as it is effective: whenever you would like to add some rhythmic pattern to any kind of sound, a lifeless basic synth sound or deep evolving pad, or if you would like to just reshape your already created complex arpeggiated sequence and make it sparkle in few clicks, let Tantra do the job!

With 8 powerful multi-stage modulators that let you create rhythmic modulations for various modules like filter, distortion, delay, lo-fi, glitch, etc, Tantra is perfect for any style of music including EDM, Trance, Glitch, IDM, Underscore and more!
Tantra features
8 multi-mode modulators.
32-step multi-stage envelopes with adjustable shape and different operating modes.
6 high quality effects- Analog filter, distortion, lo-fi, delay, flanger and a special glitch module for stutter effects.
Master equalizer and reverb at the output to shape your final sound.
MIDI Learn – Many of Tantra's features can be mapped to hardware controllers.
Tantra for Windows and Mac (VST/AU) is available for just 24.99 EUR until January 3rd, 2017 (regular 64.49 EUR). A bundle of Tantra and three expansion packs is available for an additional 15 EUR as well.
More information: VST Buzz / Dmitry Sches Tantra