Plugin Boutique has an exclusive sale on Meldaproduction MCompare, a reference tool for mixing and mastering that allows you to quickly compare your audio to any audio file.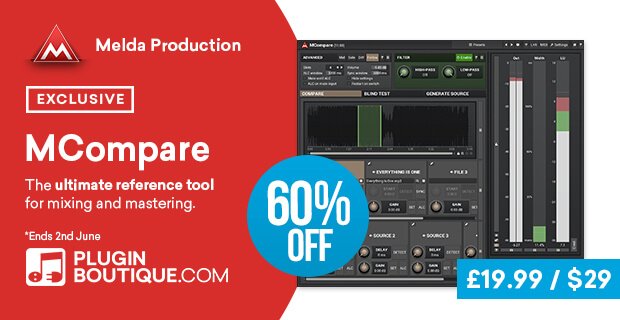 Comparing your audio to a reference commercial track is essential for every mixing and mastering engineer. Of course you can do that in your host, but the workflow is what matters here. And it cannot be any easier. Press one button and the plugin quickly crossfades between your track and whatever track you choose. Press another one to choose a different track. Or a different stage of your mastering chain for example…

MCompare is the only plugin that lets you compare your master to the chosen reference tracks, dry mix, different stages of your mastering chaing and even different versions of your mastering chain. All in a single instance, where everything is one click away. It just cannot be any easier.
Regularly MCompare is on sale for £19.99 GBP / $29 USD until June 3rd, 2019 (regular $75 USD).
More information: Meldaproduction