Audio Plugin Deals has launched a sale on the 88 Series Piano Bundle, offering a 66% discount on the piano instrument bundle by Chocolate Audio.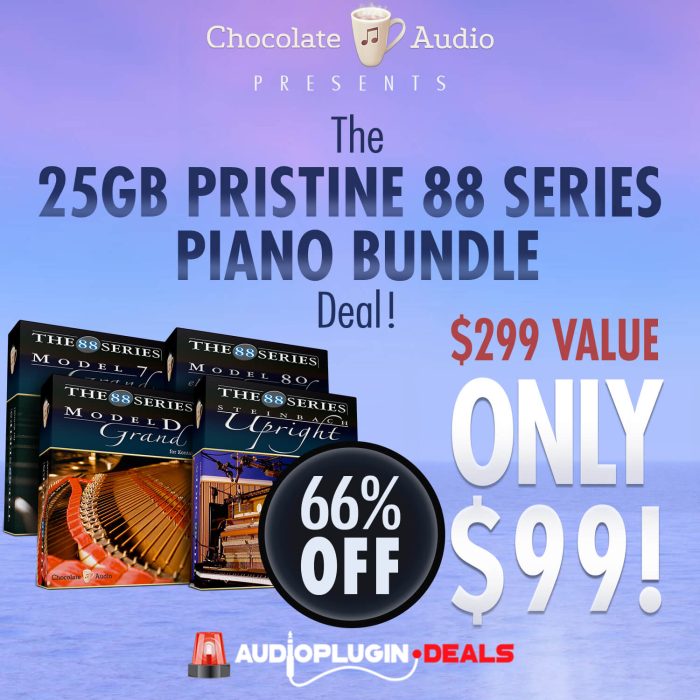 Get 4 Massive Pianos in 1 Awesome Bundle for $99! "The 88 Series piano collection" is a ginormous 25 GB bundle built for Kontakt.
The Audio 88 Series Piano Bundle includes:
Model 7 Grand — The Model 7 grand piano was sampled from a Yamaha C7 grand coda piano. Chocolate Audio's first idea was to sample a CFIII, but when they went to the rental-house, they totally fell in love with this one, and chose it. This particular piano has been in constant use since the '80s in two highly praised concert halls in Torino (Italy) and has been played by artists like Michel Petrucciani and Chick Corea throughout the years.
Model D Grand & mdash; Model D Grand — The Model D grand piano was sampled from a Hamburg-made 1939 Steinway D274 grand coda piano. This particular piano has been in use in various venues in Italy and has been played and praised by many top-level international classical and jazz players. This piano's age definitely guarantees it the vintage moniker, nonetheless it went through proper maintenance and restoration by highly-skilled Italian technicians.
Model 80 Electric Grand — Achieving a quality level on par with Chocolate Audio's goals from this piano was tough. The onboard electronics are very noisy and the piano picks up a lot of ambient noise, even though it's electric (Imagine a guitar with 88 strings and a pick-up for each single string!). Through attention and care, both in restoring, preparing, tuning and sampling this amazing piece of technical excellence, Chocolate Audio managed to capture what they believe is the best rendition of this classic compact electric grand piano.
Steinbach Upright — When Chocolate Audio chose to create piano instruments, they carefully selected which upright piano to start from. When facing grand codas, the choice is rather limited, but upright pianos are a totally different world. They wanted a piano capable of producing both a full sound and the shallow, on the edge of being out-of-tune, tone characteristic of so many historic recordings.
Audio 88 Series Piano Bundle features
Recorded at 24 bit / 96 KHz, released at 24 bit / 44.1 KHz.
Total library download size of 25.62GB (lossless compressed).
Massive combined total of 21,240 samples.
Key-release noise for added authenticity.
Independently controllable sustain-pedal resonances.
All of the details of the piano recreated through the use of Chocolate Audio's custom advanced scripting.
Requires the full version of kontakt version 5.2 or higher.
The Audio 88 Series Piano Bundle is available for purchase for just $99.99 USD until January 11th, 2017 (regular $299 USD).
More information: Audio Plugin Deals