Plugin Boutique has launched an exclusive sale on Slam Dawg, offering a 70% discount on the dynamics processor plugin by BeatSkillz.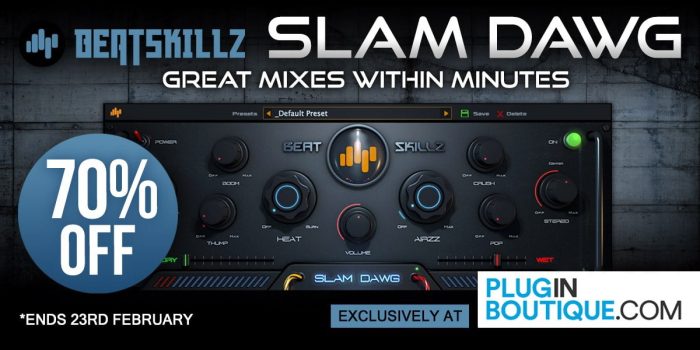 As a creative Musician, Artist, Producer or Engineer today, you need speed, inspiration, and Club, Radio ready mixes fast. The Slam Dawg is an audio processing plugin that can get your mixes to sound pro with easy controls.

The SLAM DAWG was designed to take your mixes to the next level from just one plugin.
Slam Dawg features
Easy to use.
Great on Tracks, Busses and Mixes.
Punchy, Clear and Wide Sound.
SLAM your Drums, Bass, Vocals, Synths and other sounds.
Dry and Wet controls built in.
Pro Results without chains of plugins or confusing parameters.
Slam Dawg (VST/AU/AAX) is available at 50% off until February 23rd.
Users of Slam Dawg can upgrade to the Slam Pro mix phattener plugin at a 30% discount.
Slam Pro is a Mix Phattener Processor with control over the Bass Section, Presence and Air, Compression, Saturation, Stereo Width and Loudness of your track. All these sections of this amazing plugin come with selections for different "Flavours".

All musicans and producers have different taste and different genres of tracks that they create, hence we created the ultimate channel strip with 3 knobs for controlling the Sub Bass, Thump & Low Boom of the channel or mix, there are 3 Flavours of Heat ( Saturation ), 3 types of AIRZ or High Frequency & presence control.., 4 types of POP Compression suitable to the entire mix and drums/instruments/ synths & sampler sounds. Crush Limiter and Loudness maximizer.
The Slam Pro upgrade is available from Plugin Boutique at a 30% discount until March 8th.
More information: Plugin Boutique / BeatSkillz