Plugin Boutique has launched an exclusive sale on Atom, offering a 70% discount on Audiomodern's advanced film and game sound design tool for Kontakt.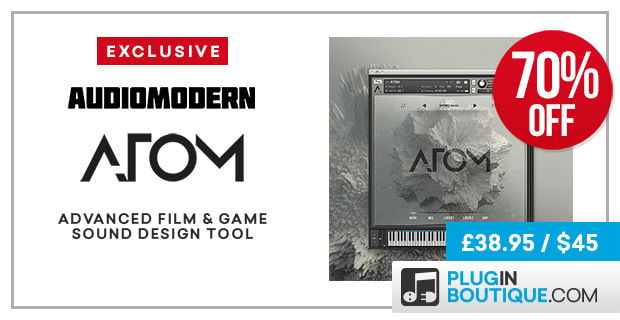 The library comes with over 180 sound sources for a total of 7.2 GB of total sounds.
The machine is built around a beatifully diverse collection of intricate textures and organic elements, that were created from a huge collection of field recordings, custom made acoustic instruments including a tuned anker, propellers, the famous Koka's experimental Box even a WWII Torpedo and analogue machine noises, which were then painstakingly recorded, edited using the most advanced sound design techniques and finally assembled into a stunning collection of abstract cinematic & experimental organic elements. with over 180 patches & presets to be mixed and matched as desired.

A unique sound design tool to create a huge range of distinctive cinematic sounds, otherworldly atmospheres, mesmeric drones, emorive synths, noisey pads, organic keys, impressive cinematic fx, transitional elements, Impacts and and Melodic Motifs each with its own character and concept behind the creation handcrafted with passion, innovation and technology. This virtual instrument plugin comes with 3.000+ samples, a highly versatile collection of on board effects, an incredibly intuitive multi-layer engine with separate effects and arpeggiator engine for each layer to provide hundreds of sonic combinations.
Atom is on sale for $45 USD until December 3rd, 2018.
More information: Audiomodern