Plugin Boutique has announced an exclusive sale on Meldaproduction's MTurboDelay, offering a discount on the effect plugin providing 40 delays.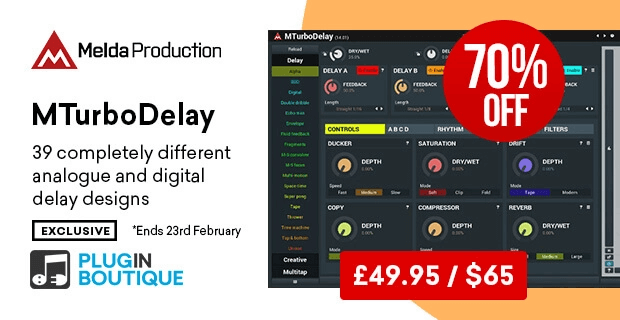 The plugin features 40 completely different delay designs inspired by both analog and digital worlds, brought to a whole new level.
A delay is the first tool you probably try, when you want to turn something boring into something interesting, lush, mezmerizing… But there's pretty much infinite ways a delay may sound. So we implemented so many of them, that your only problem will be to choose, which you like the most. These are no basic echoes, these are complex algorithms with various numbers of taps, advanced feedback processing from filtering to pitch-shifting and distortion and much more.

So why wouldn't you just buy many delay plugins and choose from them? Well, MTurboDelay will be way cheaper and faster solution. It will let you switch between them by a single click and we have unified the workflow, so it will take you minutes to get used to each delay. Comparing them is also available by a single click. You will save time and the plugin will let you focus on what's really important – the sound.
MTurboDelay is on sale for £49 GBP / $65 USD until February 24th, 2020. A multiband version MTurboDelayMB is included as well.
More information: Meldaproduction