Plugin Boutique has launched a sale on Blackhole, a reverb effect plugin by Eventide.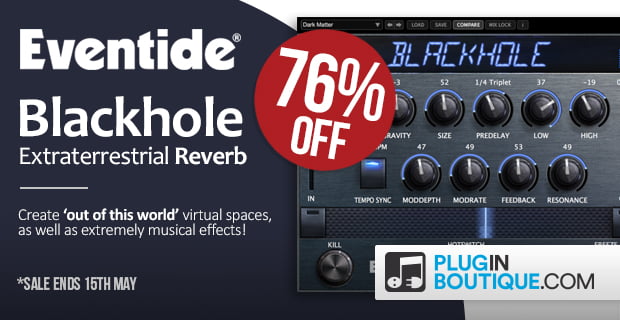 Most reverbs are earth-bound and constrained by the physics of the real world. Our Blackhole reverb breaks the rules by allowing you to create virtual spaces that could never exist in reality (at least the one we inhabit). At large sizes, its soft attack and lingering, harmonic tails allows it to really shine on guitars, strings and pads. At small sizes those very same qualities can add an angelic sheen to vocals or turn a simple drum track into an otherworldy rhythm section.

While it's true Blackhole is capable of creating space-warping special effects and drones, it's also capable of creating musical and subtle effects you'll find useful for highlighting key instruments or painting a backdrop for your mix. Whether you're at the event horizon or closer to home, Blackhole will inspire and amaze while its intutive controls will allow you to add that special something to your tracks without a degree in rocket science.

In short, Blackhole is destined to be one of those tools that you turn to time and again when reality just isn't enough.
Blackhole features
Incredibly easy to use with over 50 presets, including some by Richard Devine, Flood & Alan Moulder, Vernon Reid, Jonsi & Alex (Sigur Ros), and John Agnello.
Supernatural settings for abstract spatial effects and drones.
Subtle settings for ambient washes and track highlighting.
Unique "Gravity" control reverses the arrow of time by inverting the reverb's decay.
Mix Lock allows for scrolling through presets or settings while keeping the wet/dry mix constant.
Fully flexible mono and stereo options.
Innovative Ribbon control and Hot Switch allow for changing any combination of parameters simultaneously.
Blackhole (VST/AU/AAX) is available from Plugin Boutique at a 76% discount until May 15th, 2017.
More information: Plugin Boutique / Eventide Blackhole