Audio Plugin Deals has launched a sale on the Plugin FX Bundle, a collection of 4 audio effect plugins by Boz Digital Labs.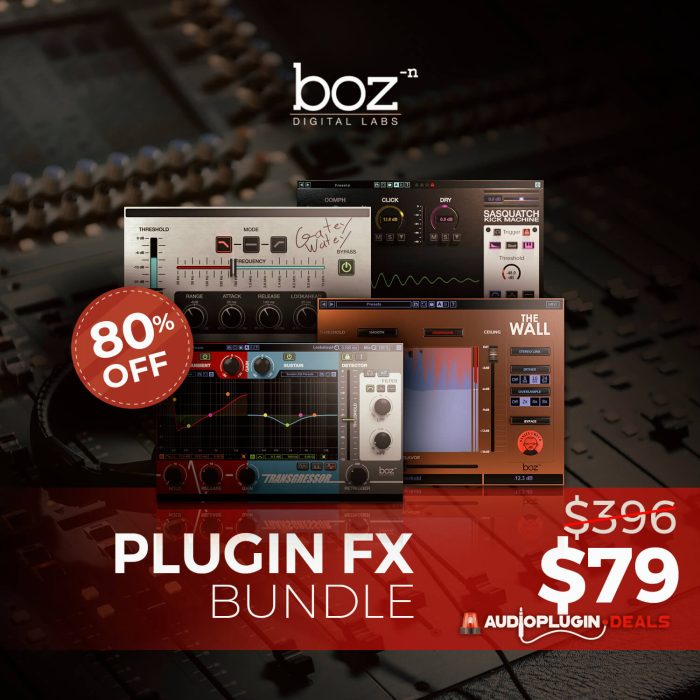 This Boz Digital Labs Bundle offers both a comprehensive and uniquely original approach to envelope modification and dynamics processing.

Ranging from low-frequency enhancement to full mix processing, these plug-ins have control options not found in any other plug-in on the market. All BDL plug-ins are designed to be CPU- and user-friendly for the ultimate in creative options and ease-of-use.
The bundle includes:
Sasquatch 2: Kick drum enhancement machine enables you to custom-tailor the sound of any acoustic or electronic kick drum and create custom drops with a unique set of creative controls.
The Wall: Brickwall limiter with dual limiting modes, "flavor" fader, 8x oversampling, clip protection, selectable sidechain modes, dither, and "sanity check" button.
Transgressor 2: Transient designer with dual 4-band EQ and gain controls independently treat attack and sustain; adjustable transient detector eliminates false triggers; insert transients via MIDI.
Gatey Watey: Frequency-dependent, chatter-free gating with look-ahead lets you select only the frequencies you want to attenuate while preserving transients for a smooth, natural sound.
The bundle is on sale for $79 USD through August 16th, 2020 (regular value $396 USD).
More information: Audio Plugin Deals