Audio Plugin Deals has announced a sale on the Shapiro 2 synth instrument by Channel Robot, offering an 80% discount for two weeks only.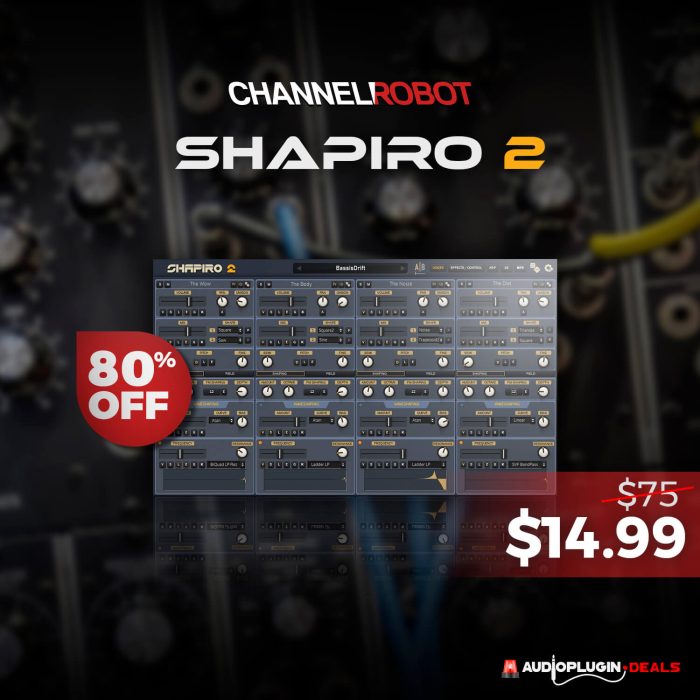 Shapiro 2 offers a different approach to sound-generation, using oscillators in matched pairs and allowing you to modulate the output in a range of different ways.
Shapiro 2 allows an unprecedented control over where and when modulation can be applied, and the shape the modulation takes, to give you shifting and changing audio output. Modulators include Envelopes, User-drawn LFOs, variable-step and tempo Gates, Sample & Hold, Keyboard and Velocity.

Shapiro 2 also comes with a per-voice Arpeggiator (so 4 arps) to allow you to build interesting and unique melodic content. Shapiro 2 has extensive CC control management and is MPE enabled. It includes per-voice pitch-bend and per-voice keyboard splits.

On top of all this is Shapiro 2's randomization and morphing system – randomize any number of voices, morph between two different "slots" (and include or exclude any voice in this process) and include or exclude a voice in preset loading. All this functionality is designed to give you very quick and easy access to generating new sound presets, that are unique to you.
Available in VST and AU plugin formats for Windows and Mac, Shapiro 2 is on sale for $14.99 USD through November 25th, 2020 (regular $75 USD).
More information: Audio Plugin Deals