Audio Plugin Deals has launched a sale on the Exclusive Private Collection by BOOM Library, a limited edition deal featuring a collection of 4 sound libraries at a huge discount.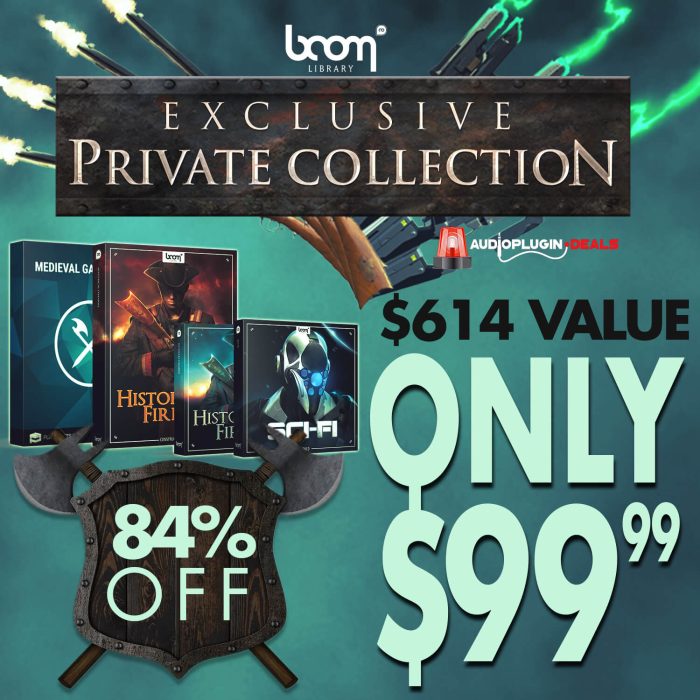 This bundle contains the following libraries:
Historical Firearms Construction Kit featuring amazing weapon variety such as shots of muzzle-loaders, muskets, carbines, pistols, cannons, breechloaders, etc. In addition to that, you will also find great handling sounds. Choose between 17 different weapons that were recorded on two locations in a multi-channel setup with 12 tracks.
Historical Firearms Designed, your best choice for high quality sound effects of cannons, pistols, revolvers and rifles from the good old times. Whether you need some precise single shots or a group of up to 100 rifles. Scale it to your needs and let your audience reminisce the centuries past.
Sci-Fi Designed, the perfect choice for quick and professional sound design. Simply drag'n'drop the ready-to-use sounds – pre-designed by our award-winning sound designers – into your project and enjoy an absolutely clean and professional result.
PlayAssets Medieval SFX, a library packed with extraordinary weapon sound effects of medieval battles and combats. Included are weapon and shield sounds like bow hit, bow shot, crossbow load, blade draw, sword hit, metal armor hit, leather armor hit, hammer hit, bone and blood sounds, whooshes and more. The sounds come in different sizes and variations to guarantee you a flexible soundscape an less identical and repetitive events.
All libraries in this bundle are delivered in 24-bit/96 kHz WAV format suitable for use on Mac and Windows.
The collection is on sale for just $99.99 USD (regular $614 USD) until July 11th, 2018, a no-brainer deal at this price point. A purchase also includes $20 USD in Rewards which you can use for any product in The Shop.
This sale is offered exclusively through Audio Plugin Deals and will not be available again after the end of the 2-week deal period.
More information: Audio Plugin Deals