Loopmasters has launched new bundle deals with a 85% discount on the regular price off 6 sample pack collections in various music genres.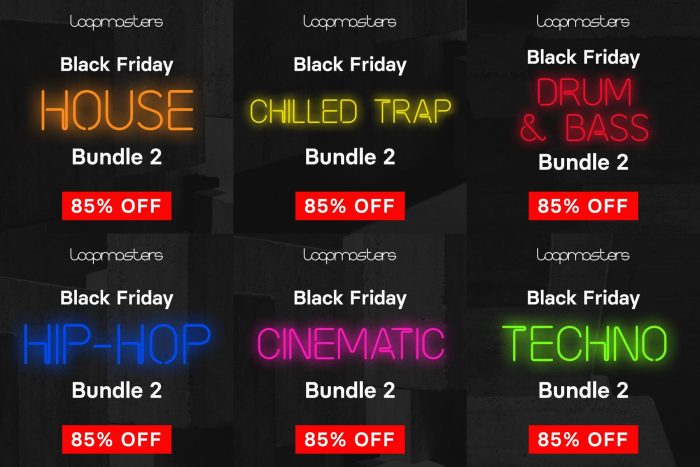 The following bundles are available:
Techno Bundle:

Techno Retribution.
Alex Tepper – Basement Sonics.
Jamie Anderson – Analogue Melodic Techno.
Groove Techno.
Driving Techno.
Analogue Skyline Techno.
Brooding Techno.
Cosmic Techno.
Indellible Techno.

House Bundle:

Cassimm – Simply House.
Svannah House.
Robbie Rivera Tribal House 2.
Bodhi – Shades of House.
The Power House.
Hot Tech House.
Maison Records – Real House Music Vol. 3.
Jacking Deep House.
House & LoFi.
Tech Therapy 2.

Cinematic Bundle:

The Sixteenth Bar – Cinematic Modular.
Dystopia.
Dramatic Cinema 3.
Textural Atmospherics from Sample Diggers.
Dark Atmospherics Vol 3.
Pulsar – Experimental Soundscapes.
Expanse – Future Cinematics.
Landscapes.
Dark Cinema.
Dark Cinematic – Serum Presets (Patwchworx 118).

Drum & Bass Bundle:

Cigno Sound – Rectified Drum & Bass.
Fourward – Drum & Bass Pressure.
Deep & Techy Drum & Bass.
Liquid Rollers.
Drum & Bass Propulsion 2.
Neurotoxin Drum & Bass.
Halftime Drum & Bass.
Drum & Bass Apocalypse 2.
Tonal 01 – Drum & Bass Elements.
Nu Elementz – Jump Up Drum & Bass.

Hip-Hop Bundle:

Hip Hop Lunar Cycles 2.
Artful Hip-Hop.
Hip-Hop Arrival 01 – Attack of the Illmatix.
El Train – Future Beats & Soul.
Cloud Rap.
Organic Trip Hop & Scratch Vol. 2.
Vintage Vinyl Breaks.
Dope Wax Beats 2.
Off the Grid – Hip Hop & Trap.
Reel Grooves.

Chilled Trap Bundle:

Chilled Trap 2.
Organic Trap.
Soulful Trap Flavour.
Tomorrow Trap.
Deep Trap Wave.
Chill LA Trap.
Chilled Trap Foundation.
Trap Wave & RnB.
Unearthed – Atmospheric Trap.
Deep Trap & Electric Soul.
The bundles are available for only £39.95 GBP each for a limited time.
More information: Loopmasters