Plugin Boutique has launched a sale on the RX Plug-In Pack by iZotope, a collection of four essential audio cleaning plugins.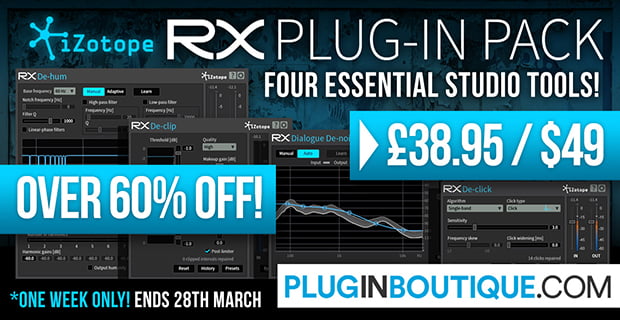 RX Plug-in Pack can help you rescue your audio, transforming flawed recordings into usable tracks and letting you avoid the need to re-record. Remove background noise and unwanted sounds that can mar instrument and dialogue tracks, and save great performances.

This kit of four essential audio cleaning plug-ins—De-click, Dialogue De-noise, De-hum, and De-clip—is curated directly from iZotope's award-winning RX software and offers the same industry-leading technology used on major label releases, network television, and Hollywood films. Use them within your audio or video editing software to fix audio you thought you'd never be able to use.
RX Plugin Pack features
Clean up audio from less-than-ideal recording scenarios: reduce background noise and hum, clicks, and other sudden unwanted sounds captured when recording voice or instruments with a microphone.
Don't lose the flow of an inspired performance: remove clipping from a vocal or dialogue recording that got hotter than expected, and hang onto the passionate and well-delivered takes.
Salvage noisy tracks that were headed for the trash: filter out line hum, buzzes, ground loops, or other sounds that made their way onto the recording, even after it's too late to re-track.
The RX Plugin Pack is available for Windows and Mac (VST/AU/RTAS/TDM/AAX). The sale ends March 29th, 2017.
More information: Plugin Boutique / iZotope RX Plugin Pack