Time+Space has announced the launch of a Summer Sale on Gothic Instruments, offering up to 40% off the cinematic instrument libraries for Native Instruments Kontakt.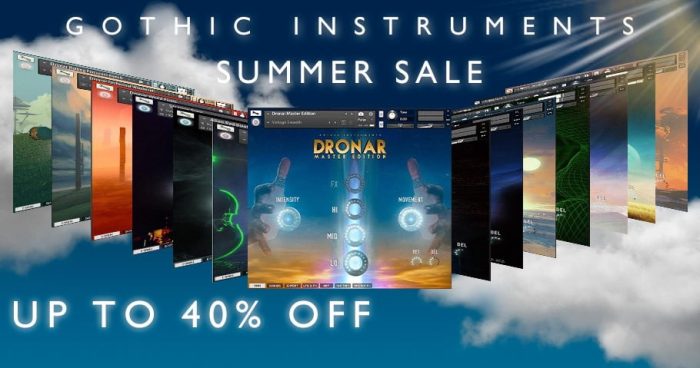 It's been four years since Gothic Instruments made an impressive entrance into the sample library world with their debut release DRONAR Hybrid Module which went on to become one of the biggest selling Sample Libraries of 2016! Since then the company has grown from strength to strength, picking up top rated press reviews and accolades as well as nominations in numerous award line-ups.
The DRONAR line of atmosphere and soundscape creation tools now stands at thirteen modules – each one offering surprisingly huge opportunities to easily craft and manipulate sounds to suit your style of project or mood.
DRONAR Distorchestra is the latest DRONAR module to be released and you can get for just £35.98 GBP until July 15th.
"For those who haven't jumped into the Dronar universe yet, this will make a perfect starting point. For me, this is one of my favorite releases out of the Dronar series. If you're scoring a film for horror, sci-fi, drama, or anything that needs powerful evolving textures, haunting moods, or tension, this will deliver a potent punch to your composition. 13 is a lucky number in the Dronar legacy, and Distorchestra gets a solid 5 out 5 Stars!" – SAMPLE SOUND REVIEW
Meanwhile, the four libraries in the SCULPTOR series of tools offer quick and effective solutions for creating impressive effects from falls and risers to impacts and whooshes.
Over the next week Music Producers can take advantage of the Gothic Instruments Summer sale with 40% off Distorchestra and then on July 16th all titles will be added to the sale where you can save up to 30% on EVERYTHING until July 31st. PLUS existing Gothic Instrument users can take advantage of their 20% off loyalty discount on top.
The full version of Kontakt is required on all products except DRONAR Master Edition which is compatible with the free Kontakt Player.
More information: Gothic Instruments