Plugin Boutique has launched a sale on Positive Grid in celebration of the launch of version 2 of the BIAS Amp software.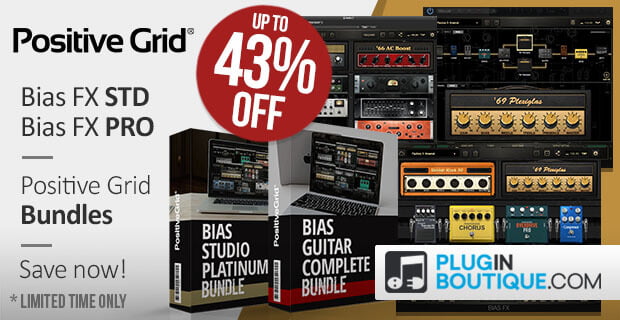 For a limited time only, you can save up to 43% off on BIAS FX Standard and Pro, and the BIAS Guitar Complete and BIAS Studio Platinum bundles.
BIAS FX STD and BIAS FX Pro were designed from the ground up with a no-compromise mindset on sound quality, offering significantly detailed and authentic emulation of analog pedals and studio racks, it has dual custom BIAS Amp profiles integration and dual signal chain.
BIAS Guitar Complete includes BIAS FX Pro, BIAS Amp Pro, BIAS FX Metal Signature Pack, Bass Expansion Pack and Acoustic Expansion Pack, BIAS Distortion, Delay and Modulation Pedals.
BIAS Studio Platinum includes everything from the Guitar Complete bundle, plus the Pro Series Compressor and EQ.
The offer expires February 5th, 2018.
More information: Positive Grid