Celemony has announced a Black Friday offer on Melodyne 5 essential, offering the note-based audio editing software at a 50% discount for a limited time.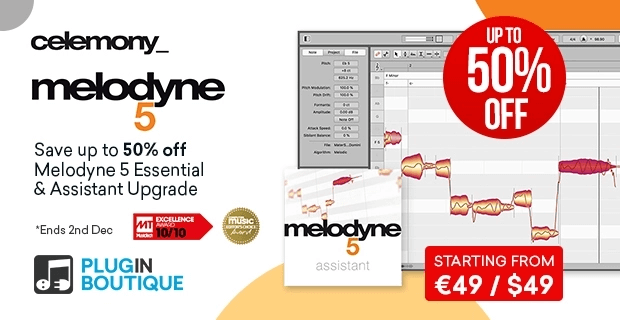 Melodyne lets you edit the intonation and timing of your vocals in a simple, intuitive, and musical way.
The easy way to begin. With Melodyne 5 essential, you edit your vocals using the basic functions for pitch and timing. Musical, quick and easy. And if you need more, you can always upgrade, paying only the difference.
Melodyne 5 essential features
Grab notes, move them, stretch them, squeeze them – it's that easy.
Intelligent macros for tuning, timing and amplitude.
Grammy Award-winning sound quality.
Upgrades to larger editions cost only the difference in price.
Melodyne 5 essential is on sale at Plugin Boutique for only 49 EUR until December 2nd, 2020.
Melodyne 5 assistant, which offers the complete Melodyne toolkit for pitch, timing, vibrato, phrasing, formants and dynamics, is on sale for $148 USD during the promotion (regular $249 USD), and the upgrade from essential to assistant is now only $99 USD.
More information: Celemony