Plugin Boutique has announced a sale on the Audified ToneSpot Pro Bundle, offering 55% off on the collection of 5 audio plugins that aim to provide everything required to make sounds stand out in the mix.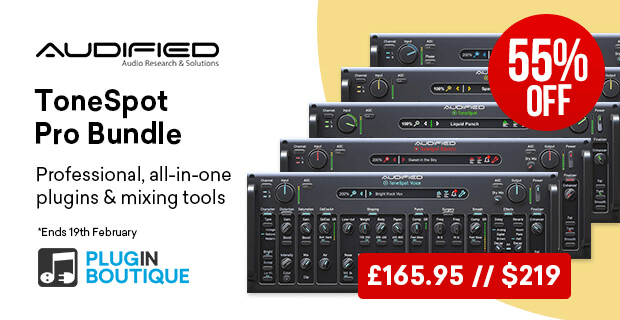 When a professional audio engineer is building that awesome overall sound in the studio, they are often running each part of the mix through some heavy processing, combining compression, equalization, saturation, multiband processing and even some other crazy effects.

Audified have taken all of these separate processes and combined them into a single multi-effect unit, allowing you to dial in the perfect settings and achieve great tone in seconds.
The ToneSpot Pro Bundle is on sale for £165.95 GBP / $219 USD.
The Audified ToneSpot Express Bundle offers the same plugins with only the most essential parameters at 50% off the regular price.
Audified's series of all-in-one "Swiss army knife" instrument processors aim to provide everything required to make whatever instrument you are working with – from vocals to drums to guitar or bass – stand out in the mix.

With ToneSpot Express, Audified has streamlined their ToneSpot Pro plug-ins even further to only include the most essential parameters.
The ToneSpot Express Bundle is £91.95 GBP / $119 USD during the promotion.
The sale expires February 20th, 2020.
More information: Audified