Time+Space has launched a sale on Zero-G, offering up to 60% off on three selected library this week only.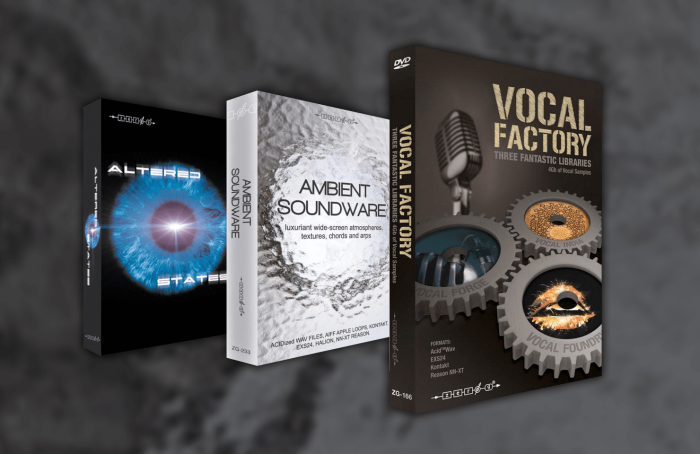 The sale includes:
Vocal Factory – Save 40%
Vocal Factory is three separate libraries in one. Incorporating the critically acclaimed Vocal Forge and Vocal Foundry together with a brand new library, Vocal India.
Vocal Forge contains male and female MCs, sweet RnB singers, soul divas, dance and pop vocals all recorded with accompanying harmonies. There are even Choral, Gothic and Opera styles. Plus, there is a Vocal Toolbox loaded with single vocal lines, scratches, effected vocals, grunts & breaths, human beatbox & percussion grooves and more.
Vocal Foundry is made up of pop, dance and urban singers and some very talented folk and downtempo vocalists to produce a more left-field approach.
Vocal India is sourced from authentic professional Indian singers. It contains both a classical section and a commercial section in a variety of styles and tempo. It is a fantastic tool for anyone looking for something different to add to their productions.
Ambient Soundware – Save 50%
Welcome to Zero-G Ambient Soundware – a gorgeous 3.2Gb collection of ambient atmospheres, pads, arps, textures and chords with a cinematic side and a strong emphasis on atmospheric and harmonic content.
The library is divided into five categories devoted to the creation of lush sonic environments and harmonic foundations that you can further expand into more complex compositions through the addition of drums, bass, vocals or any other kind of lead melodies.
Altered States – Save 60%
Altered States provides over 4 GB of world-class uniquely creative rhythm loops, instruments & samples produced by multi-award winning sound designers Ian Boddy, Cuckooland, and others. Conceived as a soundtrack composer's dream library, it's the product of thousands of hours of extremely organic, unique, ultra-creative, and virtuoso sound design.
Altered States is a beautiful and inspiring sample library featuring a vast and unique palette of sounds from out of this world, that will inspire you for years to come. With around 3500 .nki instrument patches and thousands of unique source sounds in WAV format, the diversity and flexibility of this remarkable resource has to be experienced to be believed.
The sale ends January 27th, 2019.
More information: Time+Space