PreSonus has launches a Valentine's Day Flash Sale with discounts of over 60% off on upgrades and crossgrades on the Studio One 4 award-winning, easy-to-use DAW that combines the best of the traditional recording studio model with the modern methods of creating beat- and groove-oriented music.
a href="https://www.pluginboutique.com/meta_product/3-Studio-Tools/23-DAW/6551-PreSonus-Studio-One-5?a_aid=4af297e055206″>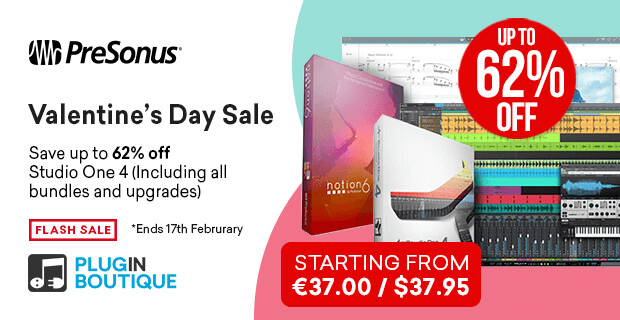 Create without boundaries & produce without limits! Presonus celebrates Valentine's Day with up to 62% off all software crossgrades and upgrades, including a Crossgrade from ANY DAW!
Studio One 4 Professional upgrade/crossgrade:

From any DAW, Notion 6 or Studio One Artist: $225.95 USD.
From previous Professional/Producer editions: $112.95 USD.

Studio One 4 Artist ugrade/crossgrade:

From Notion 6 or previous Artist edition: $37.95 USD.
The offer expires February 18th, 2020.
More information: PreSonus