Plugin Boutique has launched a sale on iZotope's Nectar 2 Vocal Production Suite and Insight Essential Metering Suite, offering up to 66% off for 2 days only.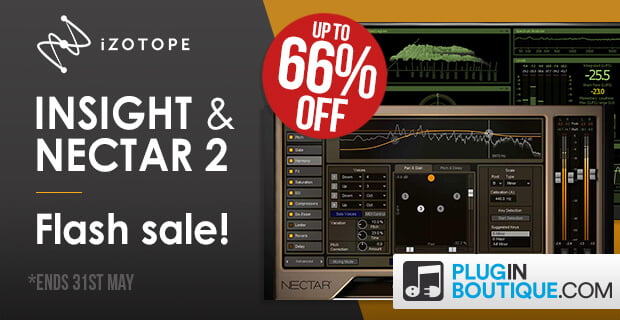 Nectar 2 brings vocal tracks to life with the only complete set of tools designed specifically for voice.
Add impact with modeled plate reverb, harmonic saturation, and a wealth of creative effects. Stay in tune and remove distracting breaths without tedious, time-consuming editing. Instantly transform a single vocal take into a dynamic, harmonized ensemble. Whether you're tracking or you're mixing, Nectar 2 delivers professional vocals in an instant.
Insight is a comprehensive metering suite for post production and broadcast applications.
Insight provides an extensive set of audio analysis and metering tools, perfect for visualizing changes made during mixing and mastering, troubleshooting problematic mixes, and ensuring compliance with broadcast loudness standards. Fully customizable and scalable, Insight allows you to visually monitor all relevant information from your mono, stereo or surround mix in a convenient floating window. Keep an eye as well as an ear on your mix at all times with Insight.
The plugins are on sale for only £89 GBP each, until June 1st, 2018.
More information: iZotope