Plugin Boutique has launched a sale on iZotope Ozone 8, offering Ozone 8 Elements users a 50% discount on the upgrade to Ozone 8 Standard for a limited time only.
The Standard version of Ozone 8 includes various additional features to Ozone Elements, including reference track optimization. intelligent track segmentation, Match EQ, and lots more.
As the industry's most comprehensive mastering suite, Ozone 8 adds to its legacy by introducing new intelligent signal processing like Master Assistant, track referencing, and more.

Enhanced to meet demands of the modern mastering workflow, Ozone 8 is your one stop for a competitive, professional master and seven essential mastering processors.
Owners of iZotope's Alloy 1 or 2 can crossgrade to Neutron 2 Standard or Advanced with up to 70% off.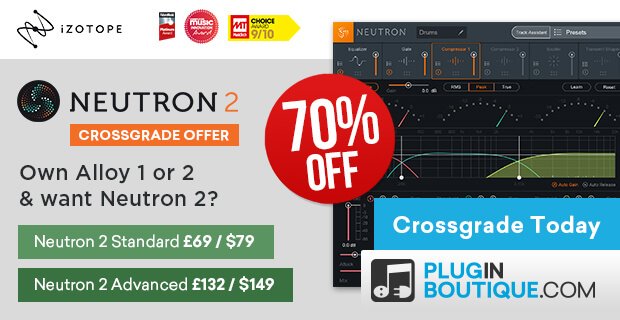 Achieve a clear, well-balanced mix with Neutron's innovative new mixing and analysis tools.

Control every aspect of your music, from the visual soundstage of your tracks to the overall balance of your mix—all with iZotope's award-winning digital signal processing.
The offers on these upgrades expire April 27th, 2018.
More information: Plugin Boutique