Eventide has extended its sale on two of its plugin bundles, offering discounts of up to 72% off regular.
The Elevate mastering bundle is 50% off during the sale.
Elevate is the most advanced mastering plug-in ever created. This unique multi-band limiter, human-ear EQ and powerful audio maximizer will increase the loudness of your mix while maintaining or improving its dynamic perception. It uses intelligent, adaptive technology that responds in real time to your music; creating not only the loudest, but the best sounding master.
The bundle includes Elevate, EQuivocate, Saturate and Punctuate. It is on sale for $99 USD at Plugin Boutique.
Eventide's Anthology XI bundle is 72% off for a limited time.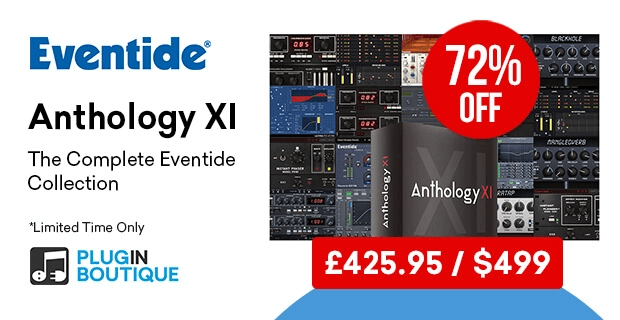 Anthology XI is comprised of twenty three plug-ins based on over 45 years of Eventide studio mainstays, as well as current and future classics. From channel strips to reverbs to multi-effects, Anthology XI has tools to make everyday tasks easier and to fire your imagination. A true must-have for any size studio.

Anthology XI comes with over 2,900 presets across the included plug-ins; many created by artists like Dave Pensado, George Massenburg, Tony Visconti, Vernon Reid, Richard Devine, Joe Chiccarelli, Roy Hendrickson, Alessandro Cortini, Andrew Scheps and Suzanne Ciani.
The bundle is on sale for only $499 USD until January 1st, 2020.
More information: Eventide Audio