Plugin Boutique has launched a sale on Metric Halo, offering up to 72% off on its high-resolution metering, analysis and processing solutions.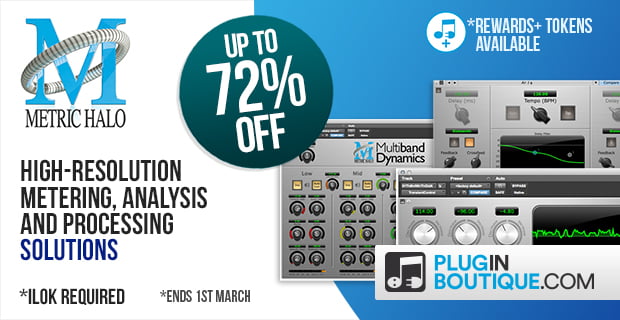 Metric Halo Sale
Metric Halo Production Bundle offers all the critical tools you need to shape, tame, manipulate, and master your tracks: ChannelStrip 3, Character, HaloVerb, Dirty Delay, Precision DeEsser, Multiband Dynamics, Multiband Expander, and TransientControl.
TransientControl is a plug-in that allows you to directly change the transient ("attack") and sustain of your audio, to make your tracks more punchy, or smooth them out so they sit in a mix.
Multiband Expander allows you to manage, suppress and control noise in your tracks in a frequency-sensitive way.
ChannelStrip 3 is like having the channel strip section of a large format console – with a few awesome Metric Halo twists!
Character lets you add the luscious distortion characteristics of classic analog circuits to your source tracks.
HaloVerb allows you to add ambience and depth to your recordings.
Multiband Dynamics allows you to add clarity, warmth and punch to your mix.
Precision DeEsser allows you to manipulate your tracks and remove excessive high frequency content.
Dirty Delay is a fantastic-sounding feedback delay processor with integrated Character and Filters in the delay path.
SpectraFoo Standard includes standards-based level metering, high-speed, high-resolution spectral analysis, the unique Phase Torch, correlation metering, triggerable waveform display, power balancing and a variety of power, envelope and spectral histories and phase analysis on any number of input or output channels.
SpectraFoo Complete adds a high-resolution multi-tone, multi-noise, sweepable, burstable Signal Generator, Transfer Function Measurement System, Capture and Static Analysis system, and more.
The sale ends March 1st, 2017.
More information: Plugin Boutique / Metric Halo