Plugin Boutique has launched a sale on Audiority's audio plugins, offering discounts of up to 80% off regular on vintage dynamic processor and effect units.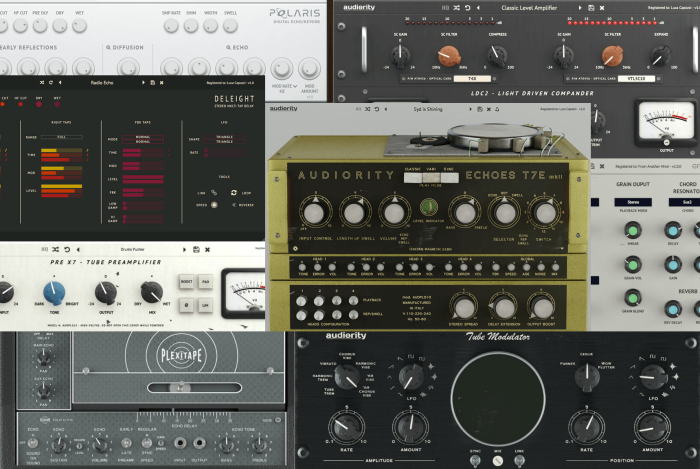 The sale includes popular plugins such as the PlexiTape analog modeled simulation of a vintage tape echo, GrainSpace granular processor, Deleight stereo multi tap delay processor based on late 90s digital delays, LDC2 analog modeled optical compressor and expander, and Echoes T7E faithful recreation of a vintage tube magnetic echo made in Italy in the early 60s.
On sale for only $5 USD, Pre X7 is an analog modeled pre-amplifier based on an iconic vintage tube unit primarily designed for bass guitar.
Both input and output 12AX7 tube models are calculated in real-time, bringing you all the subtle non-linearities that will make each instance of this plugin unique without phase issues.

A high-pass filter followed by a Tone control lets you shape the input signal before the output tubes. Furthermore, we included a brickwall clipping limiter to help you retain the distortion on extreme settings.
Omnisphere users can also get a good deal on the Omnisphere Total Bundle. The collection of 1,729 presets suitable for Ambient, Cinematic, Sound Design, Film, Soundtrack and Trailer Music is on sale for $99 USD (50% off regular).
The offer expires January 7th, 2020.
More information: Audiority