Plugin Boutique has launched a sale on the Akai VIP 3.1 music software that enables you to control your entire VST instrument and FX library directly from any keyboard.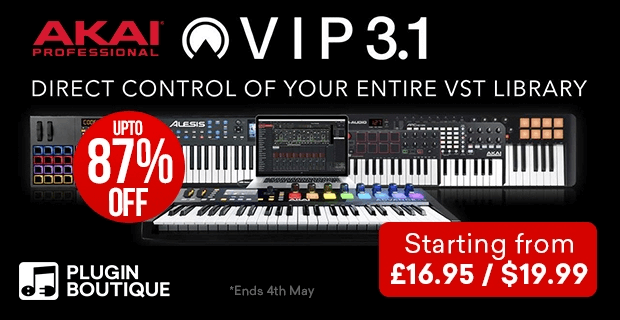 Switch patches from all your VST's in one place, instantly access pre-mapped plugin parameters for hands-on knob tweaking, customise pre-set loading from multiple VST's using set-lists, and much more.

VIP extends the capabilities beyond what any DAW offers by empowering you to quickly create and play "multis." A multi allows you to combine up to 8 patches from 1 or more plugins, with the ability to layer, mix and pan these patches all at once.

VIP software users can also create set-lists that provide on-demand access to your customised instruments for stage performance and studio work. By simply pressing a single button on any Keyboard, you can adapt to song changes as the live performance progresses-without ever reaching for your computer. That's what you want!
VIP 3.1 for Windows and Mac is on sale starting from £16.95 GBP / $19.99 USD through May 4th, 2020.
More information: Akai Professional