The Loop Loft has launched a new round of Weekend Deals, offering up to 90% off selected bundle packs for a limited time.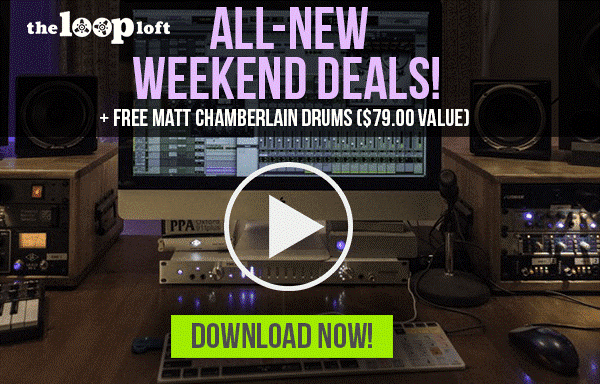 Save up to 90% on these 7 hand-picked collections + receive Matt Chamberlain Drums Vol 2 ($79.00 value) for FREE at checkout!
The Loop Loft Weekend Deals
The Platinum Pack – With over 8,000,000 kB (8.8 GB to be exact) of drum loops in our library, The Platinum Pack is a bundled collection featuring 40 of The Loop Loft's most popular loop and sample collections.
Drum Direktor Bundle – From "playing" live loops directly from the drum pads, to quickly creating intricate rhythms with the step sequencer, to tweaking effects and producing professional mixes, Drum Direktor is the ultimate all-in-one solution for creating beats.
All-Star Multitrack Drum Sessions Bundle – With over 46 GB of multitrack sessions from drumming legends Omar Hakim (Sting, Daft Punk), Simon Phillips (The Who, Toto), Matt Chamberlain (The Wallflowers, Fiona Apple) and Joey Waronker (Beck, R.E.M., Atoms for Peace), this bundle contains 79 unique multitrack drum sessions, allowing you to simply drag and drop grooves to create your own arrangements in seconds.
Dry Drums Bundle – Ever since Ringo Starr placed tea towels on his drums with The Beatles, the punchy, fat sound of "dry drums" has been sought after for decades. With The Dry Drums Bundle we give you this classic sound served up in twenty-four complete loop sessions and a variety of meticulously sampled drum kits.
Odd Meter Drums Bundle – When it comes to odd meters, there's a certain art to making them feel "natural" and well, not "odd". With proper phrasing and emphasis on certain beats in the measure, odd meter grooves can flow as smoothly as any straight 4/4 rhythm.
MASCHINE Kit Bundle – We've bundled 33 of our MASCHINE Kits, giving you instant access to these incredible custom libraries that include blues, indie rock, brazilian percussion, cinematic hits, brushes, jazz drums, slide guitar and more…
Double Drums Bundle – There's a reason Double Drums have played a crucial role in music for the past 40 years. With two different drummers playing at the same time, a certain magic and depth occurs from multiple rhythmic and sonic layers grooving together.
The sale ends March 6th, 2017. A purchase includes a free copy of Matt Chamberlain Drums Vol 2.
More information: The Loop Loft / Weekend Deals