The Loop Loft has launched a new round of Weekend Specials, offering a discount of up to 90% off on selected sample libraries and bundles for a limited time.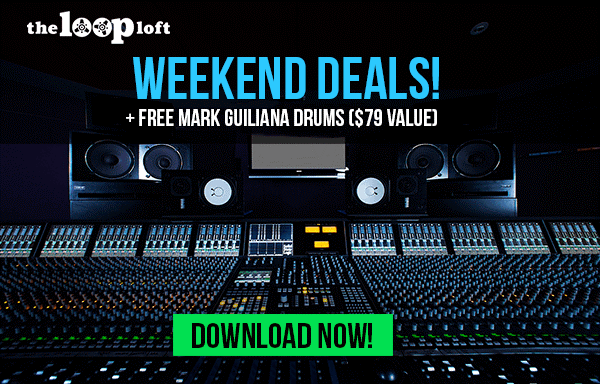 Ready for some next level loops? Enjoy your free copy of Mark Guiliana Drums (drummer on David Bowie's Blackstar album) with any purchase and save up to 90% on these all-new Weekend Deals!
Weekend Deals
MIDI Drum Loops Bundle – Packed full of inspiring loops that will take your compositions to the next level, all at a savings of 90% (offer ends soon)!
Matt Chamberlain Drums Bundle – Included in the collection are an almost endless amount of loops, fills and breaks, offering a massive variety of tempos, beats and genres.
Complete Takes Bundle – Gives you instant access to the entire groundbreaking line of start to finish Multitrack Drum Sessions, 4.82 GB of high quality, 24 bit 48kHz wav files.
Multitrack Drums Bundle – From straight up pop backbeats, to highly syncopated funk/fusion, to dramatic orchestral percussion, this bundle will give you a wide range of arrangement options and grooves, as well as the flexibility and control that only individually tracked drums can provide.
Johnny Vidacovich – New Orleans Drums Vol 1 – Features the legendary drummer in his first in-depth loop and sample collection for The Loop Loft, capturing his signature feel and "vibe".
Slice Machine 002 // Loop Loft Beats – A custom beat slicing machine for Kontakt 5 containing 225 of the finest drum breaks from The Loop Loft.
Double Drums Bundle – With two different drummers playing at the same time, a certain magic and depth occurs from multiple rhythmic and sonic layers grooving together.
The sale ends March 20th, 2017.
More information: The Loop Loft / Weekend Specials