Plugin Boutique has launched a sale on AIR Music Technology, offering discounts of up to 90% off the regular price on selected virtual instruments.
The AIR Creative Synth Bundle features three synth plugins in one exclusive bundle, available for only £29.99 GBP / $34.99 USD.
Hybrid 3.0 is the next generation in synthesis. This high-definition virtual synthesizer combines the coveted warmth of analogue synths with a full range of futuristic digital manipulation capabilities. The result is the best of both worlds.
Vacuum Pro is a polyphonic analogue-style synthesizer with vacuum tube circuit modelling that perfectly captures the crunchy, warm sound of the analogue era.
The Riser is an instrument for designing musical transitions of epic proportions. A powerful, synth-based instrument, The Riser features all of the tools you need to compose heart-stopping transitions in one intuitive user-interface.
The instruments included in the bundle are also on sale individually for only £12.99 GBP / $14.99 USD each during the promotion.
Furthermore, two of AIR's virtual keyboard instruments are available for the same price, a discount of up to 81% off.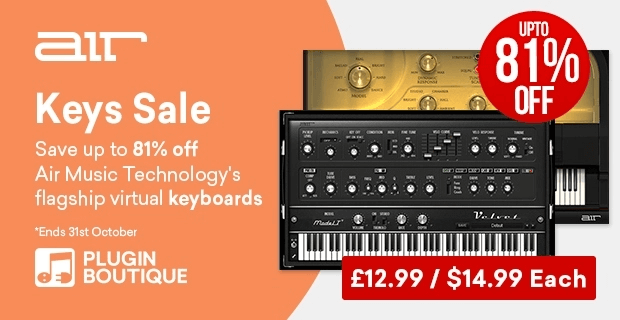 Velvet 2 is a virtual electronic piano that combines five legendary electric pianos from the 60s and 70s into one versatile instrument. Based on the Fender Rhodes Suitcase, Fender Rhodes MK I and MK II Stage Pianos, Wurlitzer 200A and Hohner Pianet-T, Velvet accurately emulates the sound quality, response, and nuances of each original instrument to bring your piano tracks to life.
Mini Grand is a simple to use yet powerful virtual piano instrument with seven different acoustic piano sounds to suit a broad range of musical styles and production needs. It features premium quality piano samples, re-pedaling technology which recreates super realistic string resonance behavior, a built-in room simulation, and equal and stretched tuning.
Owners of any AIR Instrument can also upgrade to the AIEP3 Complete bundle at a 50% discount.
On sale for £59.95 GBP / $74.99 USD, the AIEP3 Complete Instrument Pack is an inspiring collection of twenty virtual instruments and progressive sound-design tools for the modern producer, composer and performer.
The offers expire November 1st, 2020.
More information: AIR Music Technology