Plugin Boutique has announced a sale on selected SoundSpot plugins, offering discounts of up to 95% off for a limited time.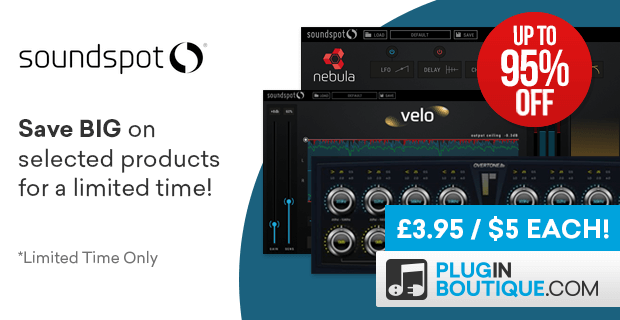 During the sale, the following SoundSpot audio effect plugins are available for only £3.95 GBP / $5 USD each.
Nebula: Multi-fx plugin that features Stereo Delay, Chorus, Flanger, Filter & LFO sections that can be used to add serious sonic madness to your music.
Velo: Brick wall limiter for maximizing loudness, that features different options to influence colouration and transient preservation.
Halcyon: Saturation effect that boasts a huge amount of control, allowing you to truly tailor the sound of your harmonic saturation.
Focus: Psychoacoustics effect that allows you to add clarity and depth to your master with ease.
VoxBox: Vocal thickening plugin that helps you widen and thicken your lead vocals in a simple and intuitive way.
Percolate: Percussion mixing plugin that helps you separate and target the snare, hi-hat and percussion parts to create a balanced drum or percussion mix.
KickBox: Plugin that simplifies the mixing process for any modern kick drum.
Propane: Unique Mid-Side panner for detailed stereo placement.
The sale ends February 4th, 2019.
Note that a purchase of any of these plugins qualifies you for the crossgrade offer on the newly released Ravage multi-mode distortion plugin.
More information: SoundSpot