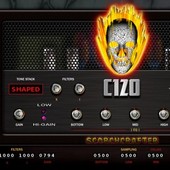 ScorchCrafter has released the C120, a virtual guitar amp head effect.
The SC C120 is a complete guitar amp head emulator in a VST/AU plug-in, using 64-bit internal distortion. After being in development for a over a year, it is now GPL-ed open source starting with version 3.0.
SC C120 features
64-bit internal processing multi-stage distortion.
Two input EQ filters.
Two stages of output EQ tone stack.
High-gain and grundge/semi-clean channels.
Should work on older machines as well, advanced CPU instructions not required (SSE, SSE2, etc.).
Independent oversampling controls for both online and offline audio processing.
Oversampling up to 16x internally, also with "mute" and "bypass" settings.
Should run in most 32-bit DAW hosts as well (support for v2.4 VSTs required).
GPL license only applies to plug-in itself – any audio created is 100% YOURS.
Runs at sample rates from 44,100 Hz (minimum) up to 768,000 Hz (max can be changed with recompile of source code).
Used to be (but is no longer) a closed-source freeware experiment for a long time, now open source starting with version 3.x.
The ScorchCrafter C120 is available as a free VST effect plug-in for Windows. Mac and Linux versions are expected soon.
More information: ScorchCrafter