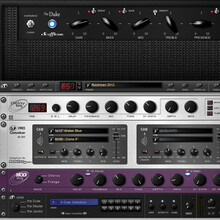 Scuffham Amps has updated its S-Gear guitar effect plug-in to version 2.1.
Headlining this release is the new RoomThing reverb unit, and if you haven't already done so, we suggest you take a listen to Jerry Stevenson's sound clips on YouTube. RoomThing is a versatile algorithmic reverb processor capable of producing very musical reverbs including realistic rooms and halls, big open and fresh ambient spaces, short decay effects for cabinet enhancement, and even some great sounding spring reverb emulations.

But that's not all! S-Gear v2.1 also includes great new functionality such as saving and recalling presets for each individual device and support for drag & drop when importing presets. For all the details, download the updated manual here.

For Cubase and Nuendo fans on the MAC, this release sees the full inclusion of VST3 format with the OS X installation. We had a rather long Beta on this, but with thanks to those who helped out, the result is a really good plug-in.
Changes in S-Gear v2.1
RoomThing reverb processor.
Device Presets.
Drag & drop preset import.
Ability to import multiple impulse responses in one operation.
Maximise button to enlarge Presets, Store As and Impulses screens.
S-Gear for Windows and Mac (VST/AU) is available to purchase for $75 USD. From January 1st 2013, the price of S-Gear will increase to $99 USD. Prices excluding VAT/Sales tax.
More information: Scuffham Amps