Seaweed Audio has announced an update to the Fathom Synth modular synthesizer instrument for Windows and Mac. Version 3.0 introduces Fathom Vector, which offers the most advanced features for audio professionals.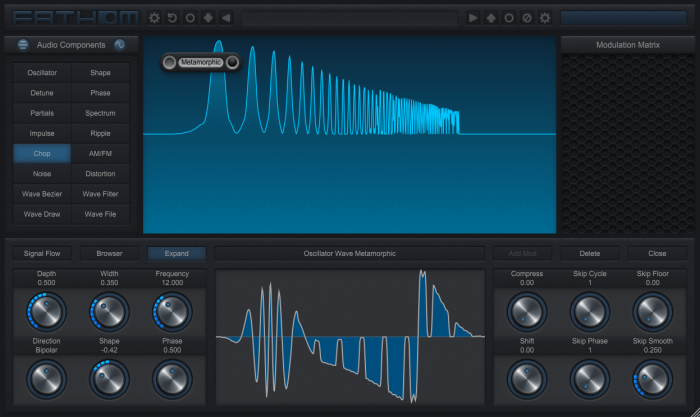 Over a year in development, the Fathom Vector synth includes everything in Fathom Synth Pro, plus Intel AVX Parallel Processing to process all eight detune channels in each synthesizer voice simultaneously, a new Metamorphic Oscillator, and a new 16 Channel Modulated Digital Delay.
The Metamorphic Oscillator is one of the most advanced oscillators ever created in a software synthesizer and consists of over 16 pages of parameters in one oscillator.
Changes in Fathom 3.0
Added Intel AVX Parallel Processing to all Oscillators (Fathom Vector Only).
Added all features back into Fathom Mono.
Complete rewrite of all oscillator code for processing speed.
Added Metamorphic Oscillator (Fathom Vector Only).
Added 16 Channel Modulated Advanced Routing Digital Delay (Fathom Vector Only).
Added realtime animation to all oscillator graphs.
Increased all oscillator partials from 400 to 500.
Increased additive spectrum oscillator partials from 64 to 128.
Added partials dial to additive spectrum oscillator.
Added more precise note trigger control. See the new setting Note Trigger.
Changed the modulation amount dial to log scale if the target dial is any filter cutoff frequency.
Added low frequency filter pop protection on all filters
Removed sample smoothing from the XY modulators.
Added FM oscillator force tonal cycle mode.
Reduced FM aliasing by enforcing the partial limit before the FM algorithm. This drastically reduces distortion in FM and makes it sound much smoother especially for high notes since the limit on harmonic partials are enforced depending on note frequency before the FM is calculated.
Changed the modulation matrix window so if the user hovers the mouse over a modulated dial and the corresponding modulation slat is highlighted the list will automatically scroll so that the modulation slat is visible if the list was previously scrolled so it was not visible.
Added setting Load GUI Multithread to control if the GUI is loaded in the plugin primary user interface thread or a separate thread using multithreading. Added for use in Reaper to prevent problems loading the GUI in large projects.
Fixed microtune so Anamark.tun files are loaded correctly if all 128 midi notes are defined.
Fixed microtune so after a tuning file is loaded microtune is automatically enabled.
Fixed all filter cutoff frequency dials so the range is enforced when log scale is selected.
Fixed Bug 0203 Crash in Waveform 10 When Export
Fixed Bug 0204 Navigation after closing mod slat goes to wrong oscillator panel
Fixed Bug 0205 Keytrack Broken on Variable Slope Newtonian and Linkwitz Riley Filters
Fixed Bug 0206 GUI Not Loading in Reaper with Kontact
Added license installer to Fathom AVX and Fathom Vector.
Available in VST and AU plugin formats, Fathom Vector is available for $125 USD, while Fathom Pro is $25 USD.
The Fathom Mono monophonic version of the synth remains free.
More information: Seaweed Audio